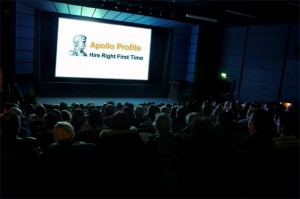 The Apollo Profile system is based on new technology, the parameters of the system can be customised to produce programs especially appropriate to a desired organisation culture, and occupational classifications employed, for example Accountants, Branch Managers, Telemarketers, Supervisors, Insurance Clerks, Customer Service Officers, etc.
Customised solutions can readily and economically be build for clients. Most commonly Benchmarking studies are conducted to reveal current organisation strengths and weaknesses. Every organisation has its own unique culture. By surveying employees using the Apollo Profile questionnaire, it can be ascertained specifically what are the special factors that discriminate high performers from the others. The organisation then has a model for success, and existing and future staff can be measured against this model.
Using consultative methodologies with the organisation, the most appropriate ways to model high performance can be derived, and Apollo Profile solutions modified to incorporate specific organisation requirements and vocabulary.
Organisations striving for higher performance can recruit and train people highly likely to succeed in that specific environment. The likelihood of expensive business failure and wasted time and financial investment in the wrong people is minimised.
To customise programs requires studies to be conducted of the group(s) under consideration, and an organisation would have a number of options in the comprehensiveness of this study, including involvement of their own personnel or consultants in consort with us if desired.
The Apollo Profile system is a leading edge development, and is significantly different from other popular low cost instruments.
Ownership of a customised system places an organisation in an advantageous position to positively influence the calibre and appropriateness of future employees, as well as providing an aid to enhancing the development and productivity of existing employees.
HR-INFO will assist you in customising the Apollo Profile for your specific organisational needs.
"Grenda's adopted the Apollonean profile system to enhance its Driver recruitment process in late 2006.The fact that it had a data base relating "Bus Drivers" was attractive and Grenda's felt it would be a beneficial tool. Every applicant presents themself in the best light and minimises exposure of their possible shortcomings. From a potential employer's perspective there is a real benefit in gaining an insight into the person behind the image that has been presented.
Grenda's have found that the Apollonean profile supports findings from the conventional recruitment process. A further benefit is gained when the profile sheds light on areas that have not been so obvious during the standard process. Grenda's is continuing to use the system for selection of its driving staff and have even trialled its use into Operational selection areas. Overall our Managers have seen it to be a positive tool."
Human Relations Manager
Grenda Transit Management